The best online dating websites in the Philippines for finding a Filipina girlfriend or wife! Below I have provided what I believe are the best websites for finding woman in the Philippines.
Some links in this post are affiliate links. Please read my disclaimer for more information.
Filipino Cupid
Filipinocupid.com is by far the best Filipina dating website that I have found! They claim to be the largest Filipino dating website with over 3.5 Million members. I can confirm that they always have lots of women online at any given point in the day. There is a very diverse membership which allows you to find any type of girl that you want.
The platform is the best in the industry. In allows you to search in almost anyway that you want, from location, age, education, English language ability, last active, currently online and many more areas. It is incredibly user friendly.
The sign up process is simple. Just give your name, sex, age, email address, and choose a password. In the alternative you can sign up with your facebook page. They will then guide you through setting up your profile.
After you have created your profile you will be swamped with messages from females in the Philippines. It is actually overwhelming at first. I had 99 messages within the first 24 hours!
You start with a trial account which is free. If you upload a photo when you register they will upgrade you to a premium account for one hour so you can see the benefits of the paid membership. Make sure to take advantage of that time so you can see how it really is worth a paid membership!
Paid v free
A free account will only let you send preformatted messages to other free members. You are unable to compose your own message or to exchange contact information. You can receive and respond to members who have a paid account. However, there are very few paid members that are female and in the Philippines.
The premium memberships open up the platform and make it useful. With a paid membership you can contact anyone on the dating site and communicate. You can also take the conversation offsite by exchanging contact information. There are two tiers of paid membership:
Platinum membership is the highest and allows you all of the features on the dating website. It exclusively allows you to double your profile space and rank above other members in search who have the free or Gold accounts. The best feature of this plan is the exclusive search features that allow you to drill down everything that you are looking for in a Filipina.
Gold membership is the other plan and is good but you get more bang for your buck with the Platinum plan.
Pricing as of this writing:
Platinum                                              Gold
1 Month          $39.99                                                 $34.99
3 Months         $79.98                                                 $69.98
1 Year             $159.99                                               $139.99
My recommendation is to pick the 3 month Platinum plan to give you adequate time to use the platform and see how it works for you.
Filipinocupid.com is by far my #1 recommendation and it is well worth the money.
Pros of Filipinocupid
Large membership
Great easy to use platform
Does a decent job of catching scammers and kicking them off the website
Excellent search options
Very reasonably priced
Drawbacks
Will get lots of messages as a new member from girls that you have no interest in
You must cancel your subscription before the end of your billing cycle or you will be charged for another period
You MUST use a system to find and filter your interests or you will get overwhelmed
Because of the popularity of the website there are scammers that you have to be wary of (if you find one always report them to the website)
2. Christianfilipina.com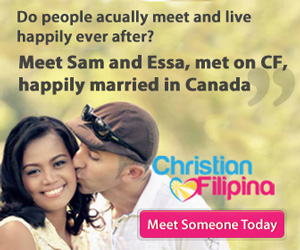 Christian Filipina is a good online dating website and it has great owners that really stand behind their product.
Obviously this website comes from a Christian world view and is trying to match fellow Christians for the purpose of marriage. The people on this site are serious about finding a Christian Husband for marriage.
The Owners of the website are extremely good about keeping scammers off of their website and do an excellent job of making this a very safe dating website. They also care about their members and really do want them to be successful. They have created a lot of articles to give advice in the dating journey and have a forum where members can support each other. They certainly are not perfect, and scammers do get onto this site, but they seem to be the best about getting rid of the scammers and are proactive in doing so.
They pride themselves on being the top competitor to Filipina Cupid. But this website does not have nearly the number of Woman that Filipina Cupid has as members and certainly not as active members. Also I don't like the platform as much as Cupid.
You can create an account on this dating website for free and try out the interface. You are limited in that you cannot actually talk with other free members, but you can send them winks, which is sort of like a flirt or saying you are interested.
If you upgrade to their paid membership, then you can actively communicate with other members.
At the time of this review there were only 162 women online from the Philippines. Of that group only 22 were under 30 years old. Most of the women on were in their upper 30's up to 50 years old. In the past, I have found that the numbers were slightly higher at around 200-250 online in the evenings in the United States.
Cost
Gold Package
3 Payments of $97 for three months or
1 payment of $247 for a three months
Platinum Package
8 Payments of $99 or
1 Payment of $597
Unlimited lifetime membership
$997
Pro
Probably one of the safest website to avoid most of the scammers
Women are more conservative than other websites
The developers care strongly about their members
Has a team that is willing to help
Fairly good knowledge base to help members
Decent Forum
Seems to be good place to find middle aged women
Drawbacks
One of the most expensive paid dating websites
Very few women online at a time compared to other premium sites
If your age range in under 30 not as good as other websites
Interface is not nearly as good as some of the other websites
3. Cherry Blossoms
This is a company that has been around for over 40 years. Long before the internet was available to people.
They started out as a picture personal magazine. It is the oldest international social networking company in the world. They started out with a picture catalog advertising women from Asia and sold addresses. In 1995, they moved on to the internet and established a dating website.
This website is not exclusive to the Philippines and has women from all over Asia. However, there is a large Filipina community on this dating platform.
Cost
1 Month $29.95
3 Months $49.95
6 Months $79.95
1 Year $119.95
Like other premium online dating websites you can get a free account, but are limited in being able to have any meaningful communication with non-paid members.
The interface is extremely dated and not nearly as good as either Filipinocupid or Christianfilipina.
If you are looking for women from countries other than the Philippines it is a good site to spread out your search.
They have a really neat feature that allows you to search a member's picture to see if it comes up elsewhere on the web. This allows you to try and see if someone has stolen a picture from the web or another dating site and is falsely representing themselves.
They seem to have quite a large membership online at any given time. Far less than Filipinocupid but more than Christianfilipina.
The legitimate women on this website seem to be much more interested in marriage than those on Filipinocupid but not as much as women on Christianfilipina.
Like all online dating websites, this one does have scammers. My own experience was that it seemed to have more obvious ones than the two websites already mentioned, but nowhere near as many as the other websites.
Pro
Extremely affordable
Good selection of women
Many countries represented but plenty of Filipina's
Excellent search functions
Drawbacks
Lots of scammers compared to other premium online dating websites
Many from countries other than the Philippines have very poor English
Very outdated interface